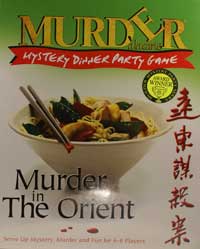 Contents
•

Party Planner with game
rules, recipes, music
and decorating tips.


•

Character booklets,
including their roles,
background information
and a few tasty secrets.
• A place card for each
character.
• Party invitations and
envelopes for each character.


•

Six secret clues.


•

Cassette tape with an introduction,
scene setter, summary of events
and solution to the crime.
Everyone's a suspect when murder is on the menu.
And with a Classic Detective Murder Mystery you have
everything you need to serve up a perfect murder dinner
party.First the invites, you choose which of your friends
play which devious character. Then the shopping
list, menu suggestions and recipes. Plus of course
.....a really tasty murder to solve. We guarentee that
it will be drop dead fun, and by the end of the evening
one (or more) of the suspects, your 'friends' will be
caught out as the murderer.

Shanghai, 1937. It's a confused, chaotic and cosmopolitan kind of town. Local businessman, Fu Manchuria has invited a mixed group to his house to have dinner, but regrettably the host himself will not be present. He's been detained upstairs. Detained by person or persons unknown. He was found in his bedroom, bound and gagged, and with an ivory chopstick through his heart. In short, he's dead.

So who killed him? It can only be one of his guests, which
means that at least one of you is the murderer. Luckily the
private detective Marlowe McClue is here to help you find out who that person is.
The suspects are:

Won Ton Willy - a Chinese businessman, who was Fu
Manchurian's partner.
Rev Spooner - an American missionary, currently spreading the word to the people of Shanghai.
Xena Spooner - the reverend's wife who met him on his last mission, and now works as a schoolteacher.
Mousy Tung - Fu Manchuria's housekeeper, no one much
about her past.
Bruce Lye - a professional dancer at The White Poppy nightclub
Lady Marmalade - the French wife of a British diplomat who has just arrived in Shanghai.
Su Suki - a Japanese actress currently appearing at the
Shanghai Opera House.
Peking Tom - an Australian adventurer widley known all over the Orient.

Ages Teen to Adult.
6-8 Players
Out of Stock